Application qualification
Applicants who are a foreigner staying in Korea or another country.
Applicants who are interested in Korean Language
Applicants who have graduated from high school or higher
Applicants who have TOPIK Level 1 or higher are preferable
→ Uzbekistan should submit TOPIK level 1 or higher
Required Documents
→ Refer to the guideline for each semester
Guide for Korean Language Program & Application Form
Admission Process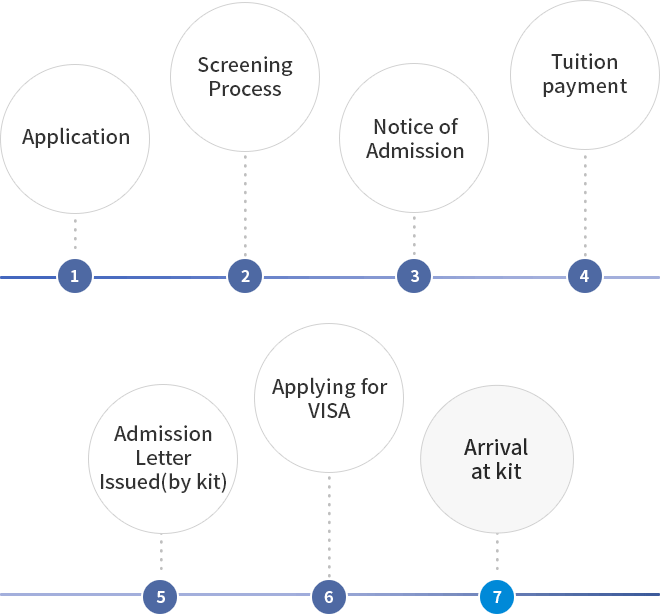 Payment (Tuition fee only)
Tuition fee: 2,200,000 KRW (2,200 USD)
※ Textbook expenses are excluded from the tuition fee.
※ Payments must be made to the following account in the student's name and maybe confirmed by e-mail
Bank Name: NH Nonghyup Bank
Account Number: 785-01-081093
Receiver: Kumoh National Institute of Technology
Swift code: NACFKRSEXXX
Benefit
Subject
Condition
Discount rate
Marriage migrants or direct family
Applied documents required
20%
Recommendee by sisterhood university (less than 11persons)
※ Recommendation from the dean of international programs & Language Education Center, KIT, needed
40%
Recommendee by sisterhood university (more than or 11)
50%
Dormitory
Furnishings: Bed, Desk & Chair, LAN connection
Facilities(shared with the residents): Shower, Restroom, Laundry Room, Lounge, Fitness center, KITchen
The amounts in the below box indicate the fee of 2018 spring. (Application needed for extent of staying)
Payment should be done within 7 days after arriving in KIT. (Cash will be needed)
It is our rule for freshmen to live in the dormitory.
Room type
1 Semester (September ~ December, 21st)
Meals
Remark
Quad-Dorm
Apprx. $500 ~ $ 1,000 (depending on meal option)
Lunch & Dinner
If you are a freshman,
You are advised to live in dormitory for 1 semester
※ Additional application needed for staying during semester
Scholarship
Type
1 Semester (September ~ December, 21st)
Period
Qualification
Scholarship Ⅰ
1st: 300,000 KRW
After 1 semester
Students who get over 80% attendance rate, superior grade in the Korean language program
2nd: 200,000 KRW
3rd: 100,000 KRW
Scholarship Ⅱ
TOPIK 6: 50% of tuition fee
After getting into KIT undergraduate school
Students who get over 80% attendance rate, get into KIT undergraduate school
TOPIK 5: 40% of tuition fee
TOPIK 4: 30% of tuition fee
TOPIK 3: 20% of tuition fee
Refund Policy
| Period | Refund Amount |
| --- | --- |
| Before semester | Full refund |
| Within 7 days of semester | 80% of tuition fee |
| Within 14 days of semester | 60% of tuition fee |
| After 15 days of semester | No Refund |
Address and Contact Information
| | |
| --- | --- |
| Contact person | Min Seon Kim |
| Address | International Programs & Language Education Center Kumoh National Institute of Technology 61 Daehak-ro, Gumi, Gyeongbuk, 39177, Korea International Education Building (E103) |
| Tel / Fax | +82-54-478-7216 / +82-54-478-7222 |
| E-mail | mintsaw@kumoh.ac.kr |