"We foster talent of software technology who will lead future industry"
Nurturing professionals who have basic and practical software skills
Presenting 'customized education' leading the Fourth Industrial Revolution
Computer engineering is the core of the Third Industrial Revolution, which is called the digital revolution, and is also the technology that leads the era of the Fourth Industrial Revolution.
The department of computer engineering presents not only curriculum to acquire basic and practical software skills, but also non-curriculum courses such as coding mentor and special lecture programs.
Students are growing as core talents in rapidly changing society by learning basic skills necessary to build a future society including IBCA(IoT, Big Data, CPS, AI) which is the main driver of the Fourth Industrial Revolution, and by improving their practical skills for use in new fields.
The 15 professors who are experts in various fields are doing their best to nurture software technical talents who meet the demands of the times.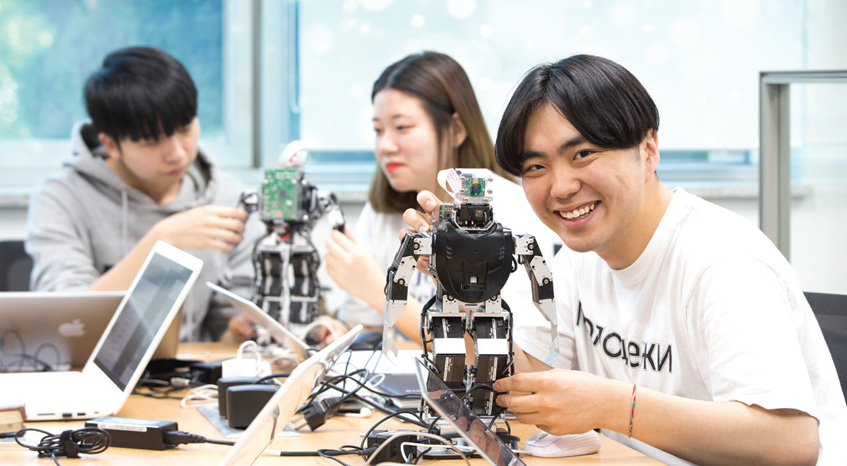 Careers after graduation
Software engineers, artificial intelligence and image recognition experts, IoT and big data experts,security experts, game developers, mobile programmers, finance·administration·business computer system engineers in domestic and overseas IT companies
Sources of pride
Participated in human resource development projects such as the project of developing regional leading university (2015-present), Program of national university for INnovation and Transformation(PoINT)(2015-2017), SW master's course of a hiring contract (2015-2017)
Presents customized education through various programs such as coding mentor, SIG, special lectures on technology