"We foster specialists for advanced technology innovation."
From planning to construction of social infrastructure facilities
Practical civil engineers who will lead globalization
Civil Engineering is a disciple necessary for planning, designing, constructing and maintaining social infrastructures such as roads, railways, ports, airports, bridges, tunnels, rivers, dams, water resource management, sewage facilities, nuclear power plant, plant facilities, etc.
These are the most fundamentals to human beings because they not only enhance the quality of modern life providing convenience of our everyday life but also protect people and properties from natural disasters like floods, drought, earthquake, typhoon, etc.
Civil Engineering can be divided into several areas of structural engineering, geotechnical engineering, concrete engineering, water resource engineering, and surveying & geospatial information engineering, water and sewage engineering and is being developed with a cutting-edge technology with numerical analysis, remote sensing, artificial intelligence, and computer graphics to create more secure, economical, convenient, and attractive facilities.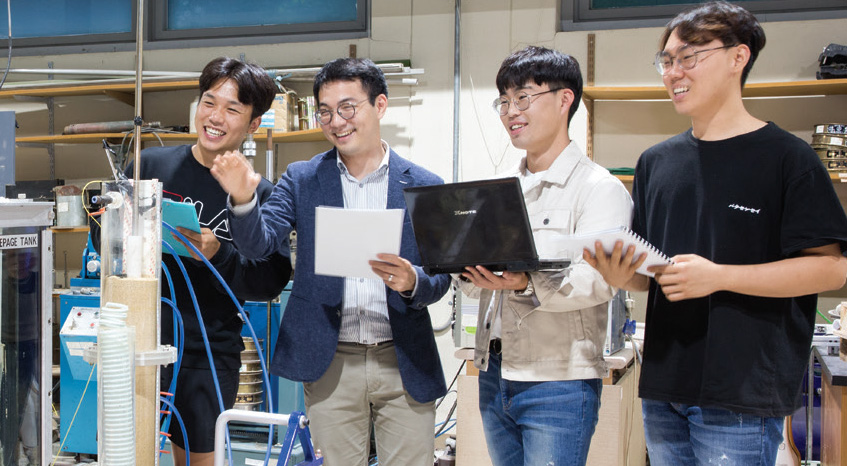 Goals of Education
Our department has set the following educational goals under the premise of "Training civil engineers who will lead the 21st century and practically apply advanced technologies into the field of Civil Engineering.'
Sources of pride
First, training creative civil engineers with basic knowledge and expertise
Second, training hands-on style civil engineers with design and field skills
Third, fostering a responsible civil engineers with future-oriented mind
We set 3P educational strategies to achieve the educational goal, Prospective, Practical, and Partnership.