"Software is the key in the era of the Fourth Industrial Revolution."
Value creation in the center of innovation such as Internet of Things
Selected by the Ministry of Education and the Korean Council for University Education as the top college in the 'college evaluation from the view of industry.'
In the era of the Fourth Industrial Revolution, ICT technologies such as Internet of Things, big data, mobile, and artificial intelligence are applied to various fields to create new value. The core of the FIR era is software. Most new innovations are made from software and controlled by software.
The department of computer software engineering focuses on training human resources in the software field. In order to educate talent systematically, the curriculum consists of programming, SI, mobile, internet, big data, multimedia/game, practical project, and strengthening major education.
The department is proud of the high-level employment rate of the students by cultivating human resources based on strengthened major education. It is also estimated as the best software department in the 'college evaluation from the view of industry' by the Ministry of Education and the Korean Council for University Education.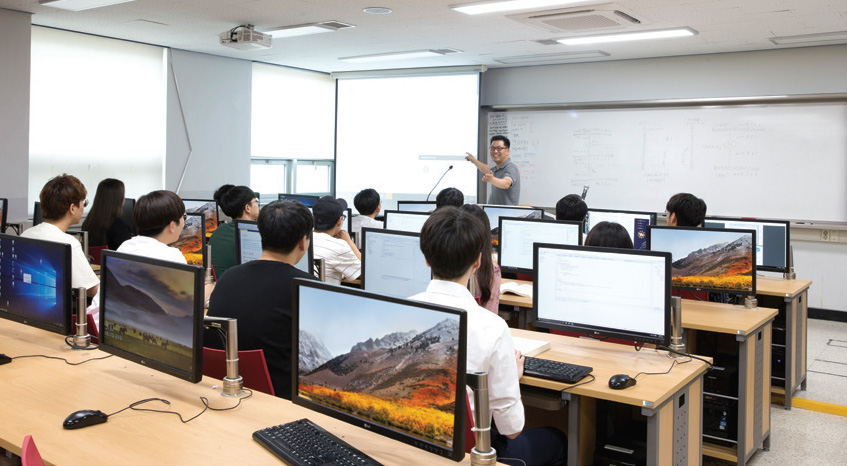 Careers after graduation
Software developers in large- and SME companies, graduate schools such as KAIST, smartphone app specialists, security experts, IT consultants, game programmers, personal start-up
※ More than 90% of students after graduation enter into S/W development
Sources of pride
Won awards at competitions and contests based on excellent programming skills
Received the grand prize at the Wearable Computer Contest
(Minister of Science, ICT and Future Planning Award)
Received the grand prize at the Intelligent Robot Competition (Governor of Gyeongbuk Award)
Received the grand prize at the Chungcheongbuk-do Mobile App Competition
(Governor of Chungcheongbuk-do Award)